Why does LED solar street light has so big market ?
Views:300 Author:Site Editor Publish Time: 2020-05-15 Origin:Site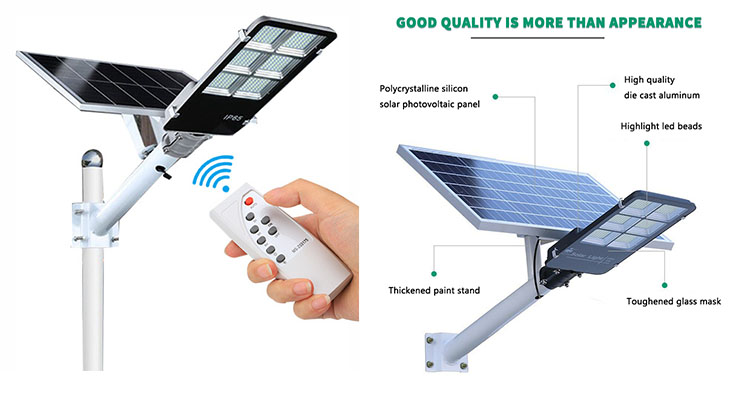 Solar street light system is composed of (including bracket), solar lamp controller, LED solar street light holder, battery and lamp pole. Can guarantee the rainy day normal work more than 8-15 days!
LED street light holder generally USES high-power LED light source; Solar cell modules are generally polysilicon or monocrystalline silicon solar cell modules. The controller is generally placed in a lamp pole, which has functions such as light control, overcharge and overdischarge protection, reverse connection protection, and time control. It can even realize functions such as four-season dimming, intelligent charging and discharging, and half-power. At present, the battery is generally a piece of lithium battery. Solar lamp works automatically, no need to dig trenches and wiring, but the lamp pole should be installed on the embedded parts (such as the concrete base), it is safer to use, in case of bad weather, such as the lamp pole falling on the ground in windy weather and other dangerous accidents.
In addition, it is worth mentioning that led light source has too many advantages over ordinary light source.
1. Long service life, high luminous efficiency, low power consumption and low operating temperature.
2. Fast reaction speed, small unit volume, green environmental protection. And it's safe and reliable.
3. At the same brightness, it will last 50 times as long as an incandescent lamp, 20 times as long as a fluorescent lamp, and consume one-tenth as much electricity as an incandescent lamp and one-third as much as a fluorescent lamp. It will be one of the greatest inventions since Edison's invention of the incandescent light bulb. It is a good product in the field of LED application to cross use with the high-efficiency light source for market lighting