Key points of installation of high power industrial pendant lighting
Views:205 Author:Daisy Publish Time: 2019-10-16 Origin:Site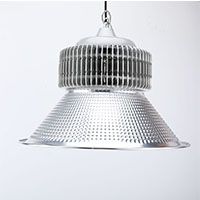 High power industrial and mining lamp is the special kinds of industrial and mining lamp. Is there any difference with others in installation. Today let's see the key steps of installation.
Prepare a hook in advance in the position that you plan to install the lamp. It should be noted that the hook and lifting ring are matched. In addition, when installing the hook, the bearing capacity shall be more than 30kg. After installation, connect the power supply and observe whether the lamp can work normally.
The key points of installation as following:
1. Tighten the lifting ring.
2. Put the lifting ring into the hook, then place it stably.
3. Pay attention to the working temperature and storage environment.
4. Wire connection should be sealed in case of power leakage
5. When wiring, some measures should be taken to prevent the water and leakage.
6. When using, be sure not to violate the fire protection regulation.
Please find a professional electrician to connect the red line with a 0.75mm2 three-core cable. The so-called hot line, the blue line is zero line and the yellow line is ground.
Industrial and mining lamp is belong to the industrial electrical products. So they are also should be installed in the designated location. The wiring on the mining lamp can be fixed from the hole through the wire and the wire behind the lamp, and it must be fixed and strong. When installing the miner's lamp, it is necessary to require the device personnel to hold a professional electrician's certificate, so as to prevent the device from malfunctioning and damage the miner's lamp.